As the U.S. real estate market stands at a "stalemate," one Palm Beach-based broker is warning of a hellstorm brewing for homeowners in coastal, natural disaster-prone areas.
"There's definitely an insurance crisis that's going on. Some of it, though, is not storm-related. It's self-inflicted," Echo Fine Properties founder and CEO Jeff Lichtenstein told FOX News Digital.
"A lot of the insurance prices are going up around the country because there's less reinsurance, dollars available, and there are more storms available," he continued. "It's the perfect storm of inflation, growing climate risk, more natural disasters and rising material costs."
Florida, whose Big Bend region was recently hit by Hurricane Idalia, has the highest average homeowners insurance premium of all states, according to the Insurance Information Institute. They also report that Floridians are paying more than $4,200 for property insurance in 2022 – triple the national average.
FARMERS INSURANCE REDUCING COVERAGE IN FLORIDA
While the Sunshine State's rocky insurance landscape is partly due to natural disasters – but mostly caused by fraudulent litigious cases, Lichtenstein argued – Hawaii may also soon be feeling insurance pressure after the destructive and fatal wildfires in Maui.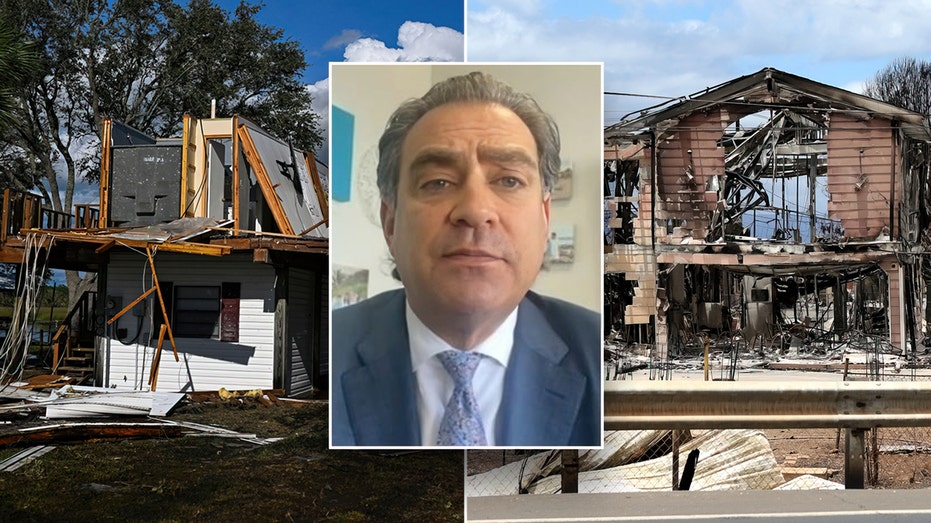 "One of my clients is in Hawaii right now, and she's actually selling her place there because there's just so much stress going on," the CEO said. "There is also the issue of reinsurance which is basically insurance for insurance. With more natural disasters happening worldwide there is a smaller pool of money available, so as a result – reinsurance rates are rising and that's being passed on by the insurance companies to homeowners – this year it went up as much as 50% in high-risk areas like Florida and as much as 20% in low-risk areas."
The real estate expert also warned against a surge in scamming opportunities after natural disasters, claiming "it happens after every storm."
"We have roofers who were not licensed… besides these unlicensed activity, you have adjusters out there giving people a lot of hope that they're going to make all sorts of money in return," Lichtenstein said. "Slow everything down, and go to people who have been in business a long time, talk to your lawyer, talk to local people in government who've been around a long time, or like somebody who's a real estate agent who's been around a long time to make sure that everything that you're doing is legitimate."
In a late 2022 special session, Florida legislature eliminated one-way attorney fees for property insurance claims in an attempt to wring out hundreds of thousands of fraudulent claims from the state's legal system. The CEO warned it could take up to 18 months before insurance rates go down, and companies explore reinsuring Floridian policyholders.
"These are these frivolous lawsuits that were going on. And Florida is a very litigious state, so you've just attracted all sorts of legal costs that were not necessary. And those are going to dissipate. But again, there's a lag period of time that's going to take a year and a half or so," Lichtenstein explained.
"Once the lawsuits dissipate and capitalism comes back into and insurance companies can make money here like any other business," he added, "they'll come back and play. And that will end up lowering insurance costs in the long run."
DEADLY MAUI WILDFIRES INFLICT MULTIBILLION-DOLLAR BLOW TO HAWAII'S ECONOMY
Insurance costs have also skyrocketed in recent years due to an influx of new residents. Florida Chief Financial Officer Jimmy Patronis previously told Fox News Digital that just under 1,000 people move to the state every day.
"It is impacting people because people came in here thinking their carry costs was going to be at one number, and it's ended up being some more," Lichtenstein said. "I had one case a couple of weeks ago where somebody lost their insurance and they were moving out, and they ended up taking a little bit lower price to move it. Another person who moved here three years ago, and between taxes and insurance, the carry cost is more."
"And so you have people sometimes thinking about moving to different counties," he continued. "So we're in Palm Beach County, there's a lot of movement right now to Saint Lucie County because everything's a little bit cheaper over there."
The property insurance volatility has changed the reputation of the otherwise business and tax-friendly state, the broker argued.
"It has not been a business-friendly state to the insurance market, which is why they've left. It's just capitalism doing its thing," Lichtenstein said. "But because of the changes in the law that took place in the spring, I think that in about 18 months or 24 months or so, you'll see insurance companies come back into play… then over this long period of time, with better building codes in place where single-family homes are in much better shape, I think Florida will see the insurance costs go down."
Natural improvements and advancements in infrastructure combined with the right policy could bring some relief to policyholders in the near future.
"It's lawmakers and citizens, it's not the insurance companies," the CEO said. "The insurance companies are going to go where they can make money. And if they can make a profit, going back to capitalism, then they're going to they're going to be in play."
For now, the real estate broker recommends investing in stable roofing, impact glass windows and generators – "that's going on across the board," Lichtenstein said. "And that better protection will make life a lot easier. And it will bring down costs because there won't be as much damage from a national storm because our infrastructure is better for it."
GET FOX BUSINESS ON THE GO BY CLICKING HERE
He also emphasized that the first step to property recovery lies in humanitarian efforts. 
"When you're in chaos and emotionally, everything is going wrong, it's just taking care of yourself, taking care of your emotional well-being," Lichtenstein said. "Last year when Hurricane Ian hit, our group delivered 25,000 peanut butter and jelly sandwiches, which were 450 calories each. So it sounds silly, but it was a meal replacement… in Hawaii, there's Spam that's being delivered because that's a comfort food and a traditional food there."
link