Anaheim, California
CNN
 — 

There was a DJ dance party and photo booths, a gala dinner and cocktail hours. But it's an awkward time for a party at the annual convention of the National Association of Realtors, underway in Anaheim this week and bringing together nearly 12,000 of the trade association's 1.5 million members from across the country.
Only two weeks ago, an industry-shaking $1.8 billion verdict in an antitrust class-action case was handed down in Missouri, finding NAR and two brokerage firms, Keller Williams and HomeServices of America, liable for conspiring to keep commissions artificially high. NAR said it will appeal the verdict.
Since then, several similar larger lawsuits have been brought against NAR and brokerages across the country, with a suit in Texas even naming an individual broker. The Department of Justice has shown renewed interest in getting involved. And that's all in addition to several top leaders and executives leaving NAR in recent months following allegations of sexual harassment and a toxic workplace.
All this has real estate agents on edge. At stake is their way of doing business and ultimately their income.
Last week, Tracy Kasper, the NAR president and a broker-owner of Berkshire Hathaway HomeServices Silverhawk Realty in Boise, Idaho, who is the voice for member agents, acknowledged agents' concern in a video message.
While saying that she was "incredibly disappointed by the verdict," she noted that NAR was in the "midst of a very complex legal situation," and "we don't have all the answers about how the future will play out."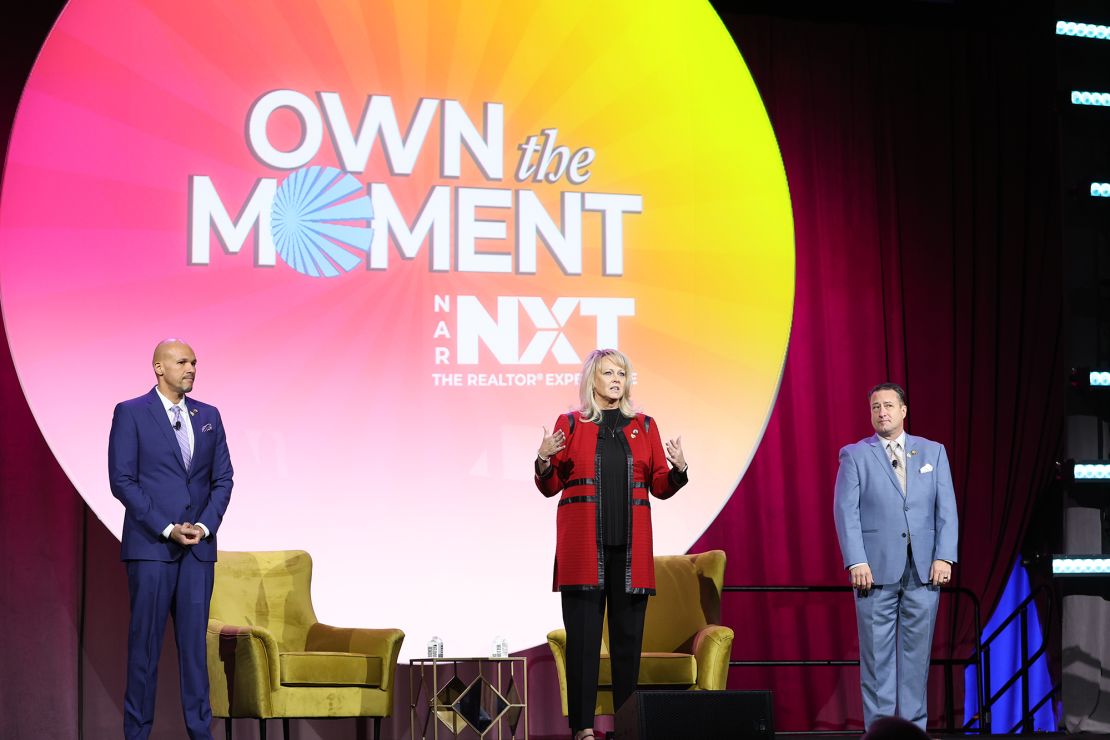 Kasper echoed those sentiments in a keynote address to agents at the convention on Tuesday, telling agents: "We will continue to listen closely to your feedback. Our decision-making remains rooted in what is best to strengthen our organization and move NAR forward."
Renée Roqué, an agent with Alexis McGee Group in Stevenson Ranch, California, was at the convention and thrilled to be supporting women real estate agents.
"At first I was nervous, but then I realized it was Missouri," she said of the verdict. "It's so different in California."
She said any changes to the commission structure — which could include more homebuyers paying an agent themselves rather than the seller paying a 6% commission that is typically split between the seller's and buyer's agents, as is common now — are likely to make people more aware of the work agents do.
"We can do what a machine can't do," she said.
While some real estate agents earn millions of dollars a year selling homes, they are the outliers. The median income for NAR members was about $56,000 in 2022, according to the organization. And agents with two years or less of experience earn a lot less, with a median gross income of $9,600 a year.
Real estate agents generate about $100 billion in commissions a year, according to the Department of Justice. And about half of that, plaintiffs in the recent case argue, goes to buyers' agents.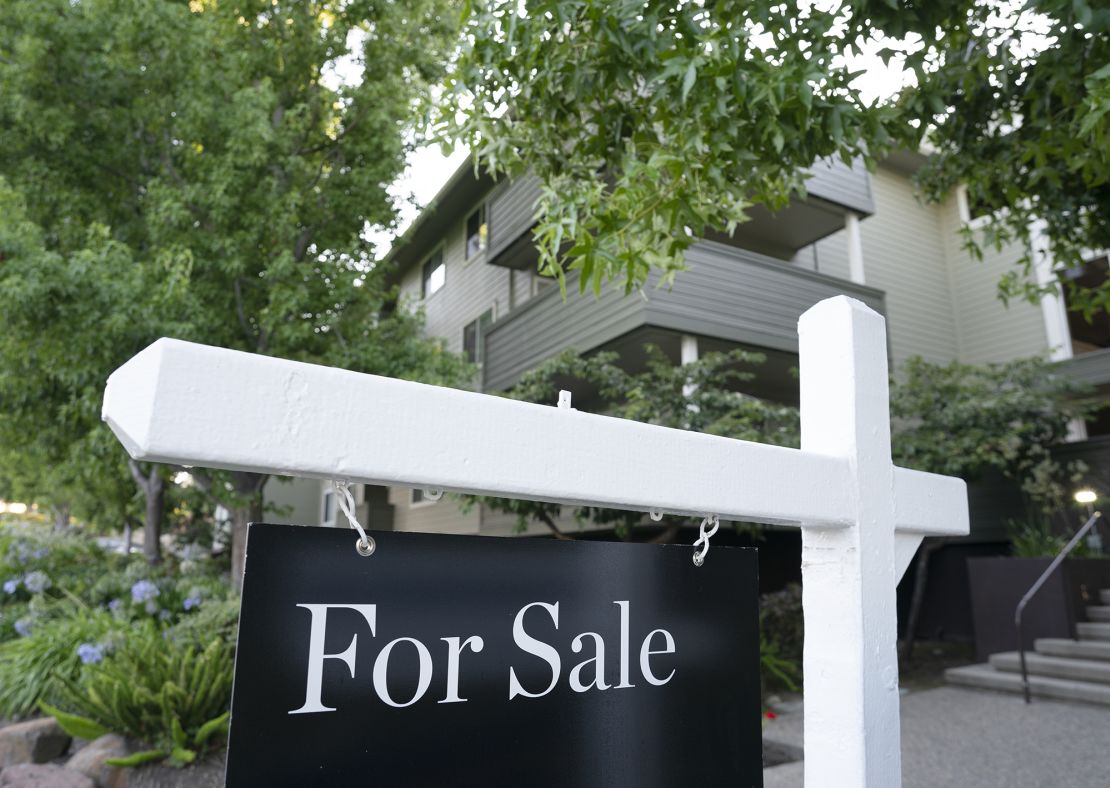 When asked about changes to their commission structure, many agents (including several who did not want to be named because they said their firms asked them not to speak on the topic) say one way or another they will get paid for their services.
The bigger question will be whether buyers will pay for the service to begin with. A typical 3% commission on a $500,000 sale means buyers will need to pay their agent $15,000. That is in addition to tens of thousands of dollars a buyer already paid upfront for a downpayment and closing costs.
"Most will not do that," said John Natale, a broker in New Jersey, in a recent TikTok video. Agents who can't make a living will have to leave the industry, something Natale isn't crying about, saying there are too may agents.
Of greater concern to him is that when fewer buyers are represented by agents, fewer people "are going to become homeowners."
While dozens of sessions at NAR's convention focused on sales strategies and entrepreneurial success stories — like "How to Create Your 12-Month Social Media Plan" and "20 Team Meeting Ideas in 20 Minutes" — there were also some that appeared designed to address changes and ease concerns about a drop in pay.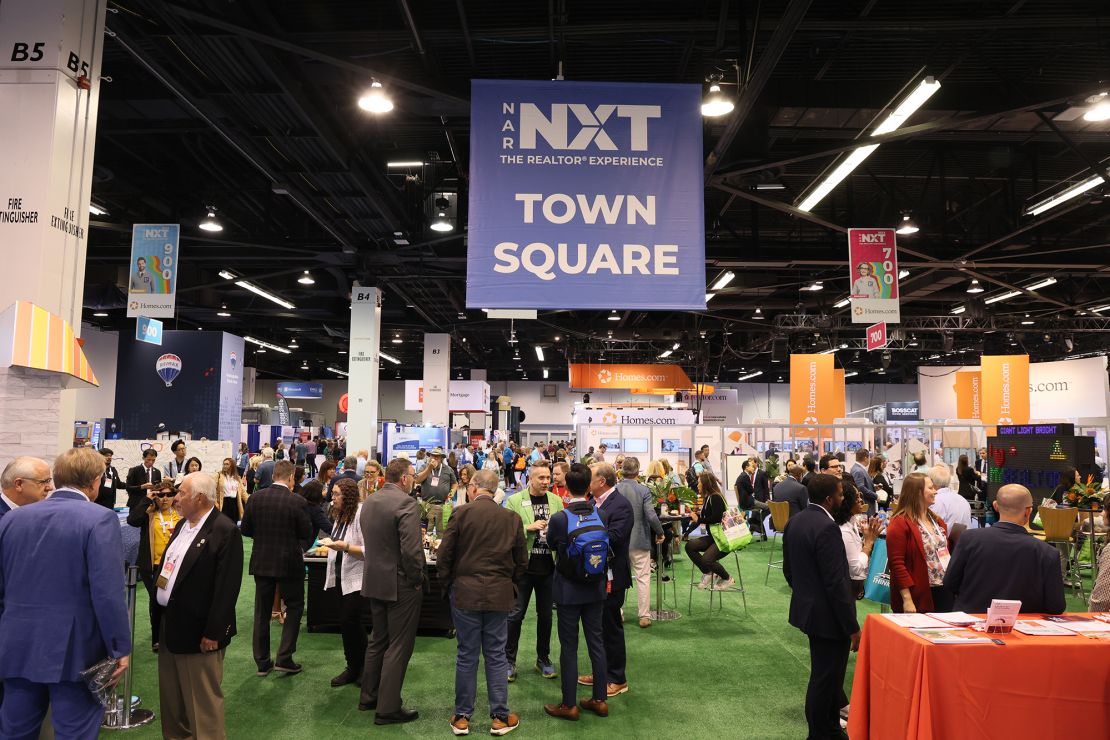 One session, "How to Get a Buyer Representation Agreement Signed," speaks to a future in which it may become less common or potentially not allowed to split a commission between a selling and a buying agent. In that case a buyer will need to pay for their own agent — and it would be in an agent's interest to spell that out in a contract.
The session, presented by Lynn Madison, a professional real estate educator from Illinois, was so well attended there were not enough seats.
Madison said some states already mandate buyer representation agreements and reminded agents that commissions are always negotiable. She said that buyers' agreements may have to have wording that says that if a seller doesn't agree to pay the buyer's agent commission, the buyer is on the hook for that money.
Chuck Simons, a broker in Valencia, California, who was also at the convention, said agents are very good at adapting to change.
"The next generation of Realtors will adapt and they won't even realize that there was an old way of doing things," he said. "It's going to be a turning point because a lot of agents don't use buyers' agreements now."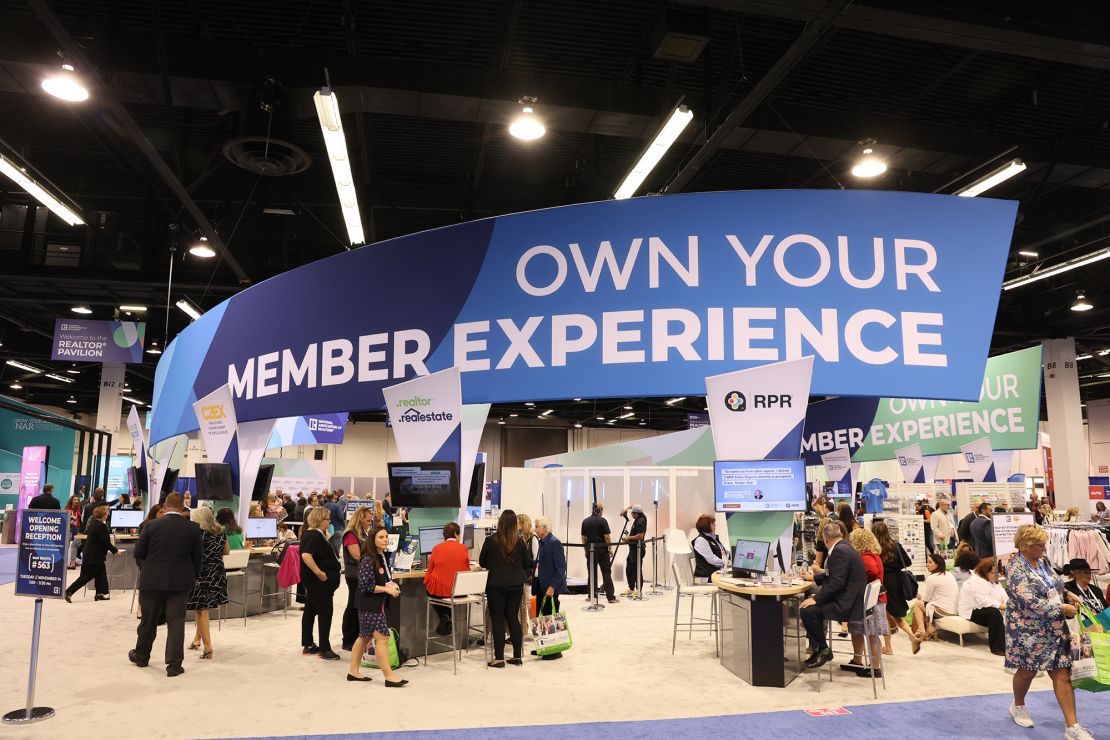 A session on Monday was entirely dedicated to the recent lawsuit verdict; at another, agents could make recommendations that might "ignite cultural change that endures beyond this moment of crisis," according to the program notes.
Matt Troiani, director of legal affairs at NAR, said in an open meeting of NAR's Risk Management Issues Committee that the association is unwavering in fighting these lawsuits. He said the current commission system ensures an efficient, transparent and equitable marketplace where sellers can sell their homes for more and have their homes seen by buyers.
But Troiani added that this is not the end of the road for these challenges. With an appeal ahead and lawsuits still being filed, it's closer to the beginning.
"We're here to say, 'Keep calm and carry on,'" Troiani said. "We still have a very long road ahead."
Jim Flanagan, broker and owner of Coldwell Banker Flanagan Realty with two offices in Ocean County, New Jersey, said he waited for a week after the verdict to have a sales meeting with his agents to give them time for the noise and dust to settle.
"I told them that for us it is business as usual, but be prepared for the discussion on commission, particularly with sellers," he said.
Flanagan said he asked his agents to highlight the disclosure and transparency of the commission to clients, "even though it is spelled out in black on white on the agent agreements." Since the pandemic, many documents are signed digitally and the agents and their clients may be emailing documents back and forth.
Because it has been a strong seller's market in Flanagan's area, commissions have dropped below 6% since the pandemic, he said, with the typical commission around 4% with a 2% split for the buyer's agent and the seller's agent. He said he isn't expecting much of a change.
"For the good agents, it is just talking to people, explaining how things are and figuring it out together," he said. "It's the agents who are, unfortunately, not busy enough who are speculating about what this means and going down a rabbit hole."
NAR is going to appeal the recent verdict and, as other cases come in, NAR will be vigorously defending itself, said Nate Johnson, an agent with RedKey Realty Leaders in St. Louis, Missouri, and NAR's 2024 vice president of advocacy, a volunteer position.
"The Burnett case doesn't require a change in our rule," he said. "It doesn't change the choices buyers or sellers have about the decision to hire a Realtor. It could change how they pay for it or the contracts they sign with agents."
Going forward, he said he's encouraging agents to think about the hits NAR has taken this year as opportunities, or challenges.
"What the lawsuit has brought to light is that there are some practitioners that haven't done a good job of explaining how compensation works," said Johnson.
If part of the outcome is that some agents leave the industry because they can't rise to the level set, Johnson said, "that's okay; we are a stronger, more professional organization because of it."
link