A judge's order comes nearly four years into Damon Giesbrecht's efforts to find out who raised a concern with SGI about whether he should be behind the wheel.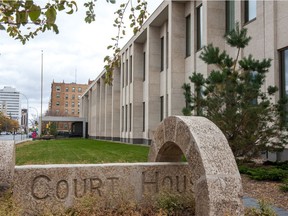 Article content
Damon Giesbrecht received a letter in May 2019 from SGI. In the letter, he was told he had to have his doctor fill out a medical report for SGI or his driver's license would be suspended.
Giesbrecht was told the report was due within one month and needed to cover "any underlying medical conditions and use of prescribed or non-prescribed treatments which could be causing impairment of functional ability to drive — such as medical marijuana."
Article content
Giesbrecht was left with one major question: Why was this letter from the Crown insurer's medical review unit sent to him?
The answer: A confidential report sent to SGI raised a concern about Giesbrecht's fitness to drive.
The man complied with the request, and his licence was not suspended or restricted. Still, he wanted to see the report. He wanted to know who sent it. So he asked for it.
Nearly four years later, Court of King's Bench Justice Colin Clackson has ordered SGI to share that information with Giesbrecht.
The Crown tried to deny the man the information, Clackson noted in his recent decision, at first citing the Freedom of Information and Protection of Privacy Act (FOIP) and refusing to confirm or deny the existence of the confidential report.
In July 2019, Giesbrecht asked Saskatchewan's Information and Privacy Commissioner for a review. The commissioner found the information engaged the Health Information Protection Act (HIPA), not FOIP, and told SGI to respond to Giesbrecht's request. The Crown refused to hand over the report, citing HIPA.
Giesbrecht went back to the commissioner's office, which found SGI had failed to demonstrate why it couldn't release the report to the man.
Article content
Still, the Crown corporation refused.
Sask. driver's licence suspensions: from behind the wheel and beyond

Regina cop charged with six counts of driving while prohibited
In court proceedings, SGI cited section 38 of HIPA, which holds information can be withheld if releasing it "could interfere with a lawful investigation or be injurious to the enforcement of an Act or regulation."
SGI also argued that disclosing the report would "negate the promise of confidentiality, and thus interfere with its ability to identify and assess the medical fitness of drivers."
Clackson wrote that there "is no evidence of a current or impending investigation relating to the matters in the Report," noting that the investigation into Giesbrecht's fitness to drive had long since concluded.
The judge considered the phrase "a lawful investigation" and concluded that a trustee "may refuse disclosure of personal health information to the person to whom it relates only if disclosure could interfere with an existing or identifiable prospective investigation."
In exploring the wording of the law governing traffic safety and how it is written, the judge wrote that "confidentiality was not considered necessary," and that disclosure of the report would not be injurious to the enforcement of the Traffic Safety Act.
Article content
He cautioned that "disclosure of the Report in this case does not mean that all such reports must be disclosed," but noted he was not convinced that "an inability to offer complete confidentiality with respect to driver fitness reports will result in fewer such reports."
Clackson ordered the Crown insurer to release the report in its entirety to Giesbrecht within 30 days — roughly the same amount of time Giesbrecht was given by SGI to comply with its request of him.
The news seems to be flying at us faster all the time. From COVID-19 updates to politics and crime and everything in between, it can be hard to keep up. With that in mind, the Regina Leader-Post has created an Afternoon Headlines newsletter that can be delivered daily to your inbox to help make sure you are up to date with the most vital news of the day. Click here to subscribe.
link