Ottawa, Feb. 09, 2023 (GLOBE NEWSWIRE) — The global sports medicine market size was accounted at USD 10.93 billion in 2022. Sports medicine, often known as sports & exercise medicine, is a specialty that aids in managing and treating injuries sustained when participating in sports or exercising. Professionals and specialists in sports medicine provide treatment for physical ailments such as fractures, sprains, strains, chronic wounds, exercise-related injuries, and other severe sports injuries.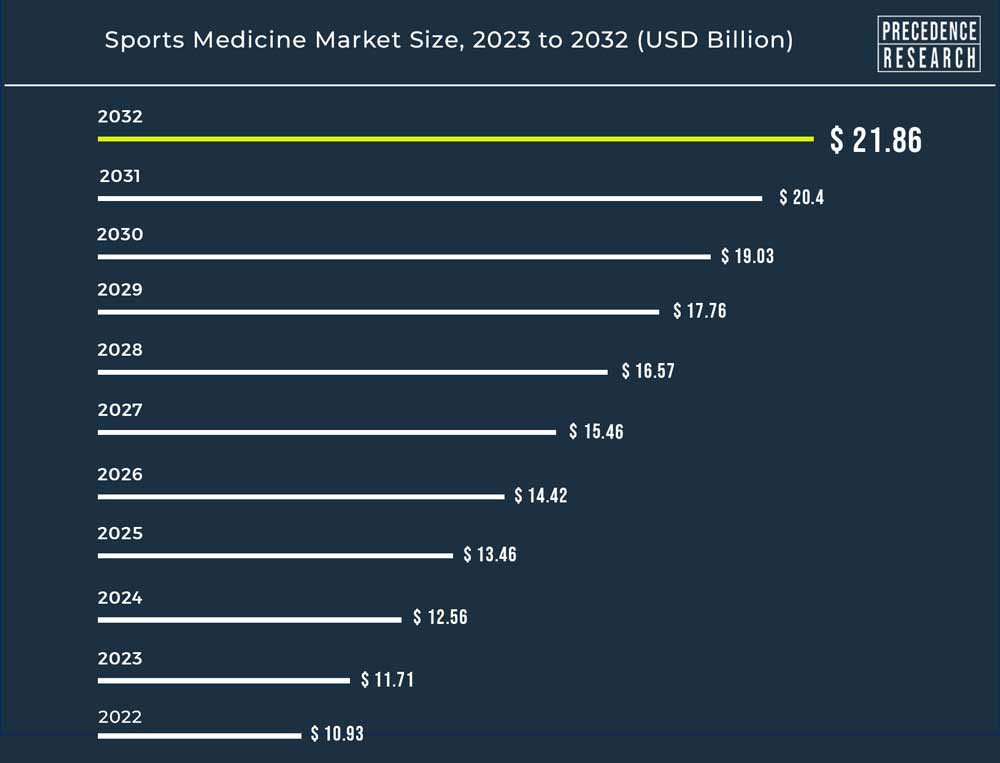 A rising number of patients receive sports medicine from specialists like physical therapists, certified athletic trainers, and nutritionists. The demand for sports medicine has been fueled by common injuries such as concussions, tendinitis, and ankle, hip, wrist, and elbow injuries, among others. Many sports- or exercise-related injuries do not require surgery, but cutting-edge equipment and technology may be able to treat and efficiently manage musculoskeletal disorders.
Get the sample copy of this report@ https://www.precedenceresearch.com/sample/2592
Sports medicine is a relatively new field with many medical and paramedical specialties. Sports medicine applies to everyone, including the active and ill, despite the popular misconception that it solely pertains to sportsmen and sports professionals.
Sports medicine, which strives to improve physical activity and quality of life for the general public, is also attracting the attention of amateur athletes. To preserve and support the physical health of all age groups, the discipline thus covers all years, from childhood to old age.
Market Growth
As a result of changing lives and an increase in sports injuries globally, there is a growing demand for sports medicine. This can also be ascribed to the rise in people selecting sports as a career due to the availability of multiple possibilities, including corporate sponsorship, scholarships, and growing sports infrastructure. In addition, an increase in demand for less invasive procedures is propelling the market's expansion. In addition, life-threatening diseases have become more common in both rich and developing nations due to rising smoking rates, sedentary lifestyles, growing reliance on fast food, and excessive alcohol usage. Sports injuries occur more frequently, and individuals participate in more sports and fitness-related activities, boosting the demand for sports medicine. The market for sports medicine is also anticipated to grow over the projected period as a proactive treatment for sports injuries gives way to preventive care.
Key Takeaway:
By product, in 2022, the body reconstruction and repair segment has generated revenue share of 39.4% in 2022.
By application, the knee application segment has dominated the market and it is growing at a CAGR of 8.8% over the forecast period 2023 to 2032.
In 2022, North America dominated the market with the highest revenue share of 47%.
Europe has held 25% revenue share in 2022.
Asia-Pacific will grow at a CAGR of 7.2% from 2023-2032.
Regional Analysis
The sports medicine market was dominated by North America, which acquired the most significant revenue share. The demand for sports medicine is primarily driven by a well-developed healthcare infrastructure, high healthcare spending, and the availability of technologically improved medical devices to treat various orthopaedic problems.
Although China, Japan, and South Korea are among the nations with the highest acceptance rates of sports medicine, Asia Pacific is predicted to experience the quickest increase throughout the projected period. Furthermore, the regulatory framework for product approvals is noticeably less strict in these nations, which has helped immediately introduce cutting-edge goods and medical equipment into this market.
Competitive Landscape
The competitive landscape of the market has also been examined in this report. Some of the major players include Arthrex, Smith & Nephew PLC, Medtronic PLC, Wright Medical Group, Bioventus LLC, Stryker Corporation, Mueller Sports Medicine, RTI Surgical Holdings, Breg, Conmed Corporation, Performance Health International Limited, Bauerfeind AG, KARL STORZ Gmbh & Co. kg, and Zimmer Biomet Holdings.
Ask here for more customization study@ https://www.precedenceresearch.com/customization/2592
Scope of the Report
Report Attributes
Details
Market Size in 2032
USD 21.86 Billion
CAGR
7.18% from 2023 to 2032
North America Revenue Share
47%
 
Europe Revenue Share
25%
 
Base Year
2022
 
Forecast Year
2023 to 2032
Market Dynamics of the Sports Medicine Market
Market Drivers
An increase in sports-related injuries is anticipated to be a key factor driving the global market for sports medicine during the forecast period. Studies from the U.S. Department of Health and Human Services indicate that the nation records 8.6 million sports injuries yearly. Numerous studies have found that 30,000 high school athletes are hospitalized annually due to injuries, affecting 2 million athletes globally.
The worldwide sports medicine market is projected to grow due to the prevalence of organized sports and the continued trend of exercise and fitness regimens. Major sports injuries in children are preventable, according to the CDC. Additionally, the global market is anticipated to grow due to increased knowledge of sports medicine and the development of novel treatments for sports injuries in emerging nations.
Market Restraints
On the other hand, it is anticipated that challenges to market expansion will include high costs connected with research and development capabilities, a lack of adequate infrastructure, high costs associated with sports medicine, and a lack of awareness in developing nations. The market is expected to face challenges from a lack of advantageous reimbursement scenarios, limited technological penetration in emerging economies, the risk associated with implant devices, and inadequate infrastructure in low- and middle-income nations.
Market Opportunities
In addition, a rise in public-private funding for targeted research initiatives, a rise in the demand for minimally invasive surgeries, an increase in the number of children participating in sports, and a rise in product innovations and development due to global technological advancements will create lucrative opportunities for market players during the forecast period of 2023 to 2032. In the future, the market's growth rate will be further accelerated by expanding internet penetration, rising arthroscopic surgery acceptance, the growing inflow of new goods and treatment modalities, and rising per capita health care spending.
Report Segmentation of the Sports Medicine Market
Product Type Insight
The body reconstruction and repair category dominated the sports medicine market, which also held the greatest revenue share. Devices, including surgical tools, soft tissue repair tools, and bone reconstruction tools, are included in the body reconstruction and repair sector. The significant market share was attributable to the rising use of arthroscopy devices in minimally invasive procedures, the use of fracture and ligament repair devices, and both. On the other hand, over the projected period, the accessories section is anticipated to develop the fastest. Bandages, tapes, wraps, disinfectants, and other items needed for treating minor sports injuries are primarily included in this segment. The primary reason driving this trend is the increasing use of PRICE (Protection, Rest, Ice, Compression, Elevation) therapy as the urgent treatment for any sports injury.
Application Insight
As the incidence of knee injuries has been steadily rising, the knee application category has dominated the sports medicine market and held the greatest market share in 2022. A lot of sports-related and other physical activity-related ailments involve the knee. This is due to the knee joint's deterioration caused by excessive running and jumping. Moreover, advanced therapies include platelet-rich plasma therapy, arthroscopic knee procedures, soft tissue massage, dry needling, osteopathic manipulation, and arthroscopic surgery. Numerous therapies are readily available, and the frequency of knee injuries is rising, which are two of the main causes promoting the segment's expansion.
Related Reports
Get Our Latest Press Releases@ https://www.precedenceresearch.com/press-releases
Recent Development of the Sports Medicine Market
In August 2021, The ROSA® hip system from Zimmer Biomet was given FDA approval for robotically assisting direct anterior total hip arthroplasty.
In June 2020, Smith & Nephew recently announced the release of INTELLIO Connected Tower Solution, a new product that allows users to wirelessly manage various sports medicine systems from a distance.
Market Segmentation
By Product Type
Body Reconstruction & Repair

Surgical Equipment
Soft Tissue Repair
Bone Reconstruction Devices

Body Support & Recovery

Braces and Other Support Devices
Compression Clothing
Hot & Cold Therapy

Body Monitoring & Evaluation

Cardiac
Respiratory
Hemodynamic
Musculoskeletal
Others

Accessories

Bandages
Tapes
Disinfectants
Wraps
Other
By Application
Knees
Shoulders
Ankle & Foot
Back & Spine
Elbow & Wrist
Hips
Others
By Geography
North America
Europe
Asia-Pacific
Latin America
The Middle East and Africa
Immediate Delivery Available | Buy this Premium Research Report@ https://www.precedenceresearch.com/checkout/2592
You can place an order or ask any questions, please feel free to contact at [email protected]  | +1 9197 992 333
About Us
Precedence Research is a worldwide market research and consulting organization. We give unmatched nature of offering to our customers present all around the globe across industry verticals. Precedence Research has expertise in giving deep-dive market insight along with market intelligence to our customers spread crosswise over various undertakings. We are obliged to serve our different client base present over the enterprises of medicinal services, healthcare, innovation, next-gen technologies, semi-conductors, chemicals, automotive, and aerospace & defense, among different ventures present globally.
For Latest Update Follow Us:
https://www.linkedin.com/company/precedence-research/
https://www.facebook.com/precedenceresearch/
https://twitter.com/Precedence_R


link