2022 marked a busy and notable year for advertisers and
marketers as several key legislative and regulatory proposals,
changes and practices were announced or came into force. This
article provides a brief overview of recent developments impacting
advertising in Quebec due to Bill 96, drip pricing and harsher
penalties for deceptive marketing practices, environmental claims
and important new labelling requirements for "unhealthy"
foods and natural health products.
Changes to Advertising and Labelling Rules in Quebec: Bill
96
One of the most significant and widely publicized law reforms
adopted by the Québec government in recent years is Bill 96,
An Act respecting French, the official and
common language of Québec (the "Act").
Bill 96 aims to reinforce the predominant use of the French
language in Québec and amends the Charter of the French
Language to impose stricter rules on the use of French by
businesses that operate or transact with customers within the
province.
One of these rules includes the use of French on public signage,
posters, and commercial advertising. Previously, business owners
were allowed to use a trademark on public signage and posters
visible from outside premises if that trademark was
"recognized" (meaning, a registered or
unregistered trademark), and a registered French version of that
mark did not exist on the Trademarks Register. Under Bill 96, an
unregistered trademark is no longer sufficient. A trademark in a
language other than French may be used on public signage only if it
is registered and no French registration exists. Should storefront
signage contain both a trademark in French and a trademark in a
language other than French, the French text must be markedly
predominant under Bill 96.
Businesses should also be wary about the use of product labels
on goods sold in Québec. Under the Act, every
inscription on a product, on its container or its wrapping, or on a
document or object supplied with it, including the directions for
use and the warranty certificates, must be drafted in French. This
rule applies also to menus and wine lists.
These French inscriptions may be accompanied by a translation in
another language, but that translation must not be available on
more favourable terms. The use of non-French trademarks on
packaging may be permitted, but only if the mark is registered
(i.e., the "recognized" trademark exception no longer
applies). Even if the mark is registered, however, any generic or
descriptive portions included in the registration must be
translated into French.
The penalties for violations under the Act are harsher
than before. Under Bill 96, the Office Québécois de
la langue française (OQLF) will be able to request an
injunction to force compliance with the rules. Fines for
non-compliance increased from $600-$6,000 to $700-$7,000 for
individuals, and from $1,500-$20,000 to $3,000-$30,000 for
businesses. These fines will double or triple for recurring
violations. The OQLF will also be able to request a court order for
the withdrawal or destruction of non-compliant signs,
advertisements, and billboards at the cost of their owners or
installers.
Bill 96 came into force on June 1, 2022. Businesses that operate
or offer goods/services in Québec will now have until June
1, 2025, to come into compliance with the Act. For a more
in-depth discussion on Bill 96 and its impact on trademark use in
Québec, see our article here.
Competition Act and Drip Pricing
In an effort to modernize Canada's competition regime, the
federal government passed several significant amendments to the
Competition Act, R.S.C. 1985, c. C-34 that codified
express prohibitions against drip pricing and imposed harsher and
discretionary fines for deceptive marketing practices.
Drip pricing involves offering and advertising a product or
service at unattainable prices because consumers must also pay
additional "hidden" charges or fees to buy the product or
service. Drip pricing (which doesn't include charging
additional fixed charges or fees imposed by the government such as
HST) is considered to be false or misleading under the law since
consumers are paying higher prices than those advertised. The
Competition Bureau has sought to combat drip pricing practices in
Canada in recent years.
As of June 23, 2022, both the civil and criminal provisions of
the Competition Act now identify drip pricing as a
deceptive marketing practice. The making of a representation of a
price that is not attainable due to fixed obligatory charges or
fees constitutes a false or misleading representation under
sections 52 (1.3) and 74.01 (1.1) of the Act.
Violations of these provisions and violations of other deceptive
marketing practices provisions can carry stiff fines and penalties.
Previously, penalties were capped at $750,000 (and $1 Million for
each subsequent violation) for individuals and $10 Million for
corporations ($15 Million for subsequent violations). The
amendments to the Act now impose a new maximum penalty at
the greater of these fines or three times the value of the
benefit derived from the deceptive conduct if that amount can be
reasonably determined. If that amount cannot be reasonably
determined, the maximum penalty will be 3% of annual worldwide
gross revenues. The same maximum penalties for corporations apply
to those who violate the abuse of dominance provisions of the
Act.
On June 23, 2023, fines for criminal agreements between
competitors to fix prices, restrict supply or allocate markets are
no longer capped at $25 million. Imposed fees will soon be "at
the discretion of the court".
Environmental Claims and Greenwashing
The Competition Bureau also has taken an increasing interest in
addressing environmental claims and greenwashing under the false
and misleading advertising prohibitions in the Competition
Act. Greenwashing generally refers to marketing or advertising
that misrepresents or exaggerates the environmental benefits or
advantages of a product or service. A news release was issued by
the Bureau in early 2022 warning consumers about the use of
unlawful false, misleading, or unsupported environmental claims and
encouraged consumers to report these claims to the Bureau.
In January 2022, the Bureau reached a consent agreement with the
coffee machine manufacturer Keurig Canada Inc. over concerns that
the company made false and misleading claims about the
recyclability of its single-use K-Cup pods.
The Bureau asserted that Keurig's recyclability claims were
false or misleading in areas outside of British Columbia and Quebec
where the pods were not accepted as recyclable matter. It found
that Keurig gave the false impression that consumers could prepare
the pods for recycling by peeling the lids off and emptying the
coffee grounds when some local recycling programs required
additional steps. As part of the consent agreement, Keurig agreed
to pay a $3 million penalty as well as make an $800,000 donation to
a Canadian charity focused on the environment. Keurig also agreed
to change all its claims, publish corrective notices, and enhance
its corporate compliance program to prevent future deceptive
marketing.
In October 2022, the Bureau launched a formal inquiry into
representations made by the Royal Bank of Canada (RBC) to reduce
greenhouse gas emissions and address climate change. The Bureau
asserts that RBC's representations are materially false and
misleading since RBC is taking action to increase emissions and
exacerbate climate change by providing tens of billions of dollars
annually in financing for fossil fuel development and expansion.
The investigation is still ongoing.
The Keurig case and the Bureau's inquiry into RBC serve as a
warning that companies making recyclability and environmental
claims should exercise great caution as the Bureau takes
environmental claims seriously and will take action against
greenwashing claims.
Bill C-252 and Advertising Unhealthy Foods to Children
In February 2022, Bill C-252, An Act to amend the Food and Drugs Act
(prohibition of food and beverage marketing directed at
children) was introduced by a Member of Parliament with an
aim to restrict the marketing of food and beverages high in sugar,
saturated fats, or salt directed at children under the age of 13.
Bill C-252 was designed to address the persuasive influence of
advertising on children's food preferences, attitudes, purchase
requests, consumption patterns and overall health. The proposed
legislation aims to promote a healthy Canadian population,
including children, while reducing the likelihood of serious health
problems and contributing to a healthy economy.
Bill C-252 is similar to the Senate Bill S-228 Child Health
Protection Act ("CHPA"), which was introduced in 2016 and
aimed to ban ads for food and drinks aimed at children under 13.
While the CHPA passed Senate and House of Commons readings, it did
not reach a final vote due to the dissolution of Parliament in
2019. Bill C-252 signals a reintroduction of the issue of
advertising unhealthy foods to children in Parliament. If it
receives royal assent, it will create national advertising
restrictions and align with the regulatory initiatives taken by the
Canadian government, including the front-of-packaging labelling
requirement discussed below. Bill C-252 passed its first and second
readings in the House of Commons and is currently awaiting a
committee study.
New Regulations re: Front-of-Package Nutrition Symbols
In an effort to help Canadians make informed choices when
purchasing packaged food and beverages, the Federal Government
published regulations amending the Food and Drug
Regulations ("FDR") in July 2022. Certain
foods high in saturated fats, sugars, and sodium now require the
following label on the front of their packaging: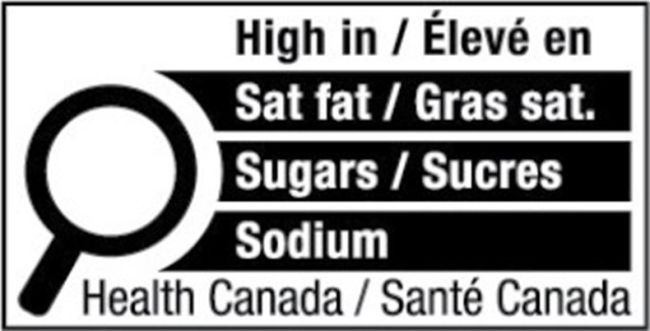 The label will only display the names of the nutrient(s) of
concern in that particular packaged food or beverage item. For
example, the packaging for a chocolate bar that is both high in
saturated fats and sugar will bear a front-of-package
("FOP") symbol that displays both the "Sat fat"
and "Sugar" nutrients to the right of the magnifying
glass. The need to include the label on the packaging depends on
several factors. The product must first have a "high"
level of saturated fat, sugar, or sodium—or any combination
of the three. Most commonly, the nutrient content in an item will
be considered "high" if it contains 15% or more than the
daily value set out in Health Canada's
Table of Daily Values.
There are also some exceptions and prohibitions to the inclusion
of the FOP symbol. Certain foods, such as infant formula or meal
replacements are prohibited from carrying the FOP symbol on their
label. Other food products are exempt from requiring the FOP
symbol, such as products with a small display surface, packaged raw
meat, whole fruits and vegetables, and whole eggs—to name
just a few.
The amendments have been in force since their publication, but
manufacturers have until January 1, 2026, to be in compliance with
the new requirements.
Changes to Labelling Requirements for Natural Health Products
(NHPs)
And finally, in July 2022, amendments to the Natural Health
Products Regulations were published in the Canada Gazette Part II, which will make
significant changes to /> labelling requirements for NHPs. In
December 2022, Health Canada published an updated Guidance Document to provide clarity on how to
achieve NHP labelling compliance and identify best practices under
these new Regulations.
Notable changes will include a new Product Facts Table with
standardized content and format (see Fig. 1), new labelling
requirements for gluten, aspartame, added sulphites, and for food
allergens likely to lead to anaphylaxis in those affected, and the
product license holder or their contractual proxy will be required
to provide modernized contact information on the product label.
The new labelling requirements will come into force on June 21,
2025, and labels for NHPs licensed before this date will have an
additional three years to achieve compliance. However, we recommend
NHP license holders futureproof their labels in the intervening
period to prevent retraction of stock when the new requirements
come into force.
Fig 1: Example Product Facts Table reproduced from Health
Canada's Guidance Document
The content of this article is intended to provide a general
guide to the subject matter. Specialist advice should be sought
about your specific circumstances.
link